Hound and Co. is a great place for dog lovers to unite! Hound and Co. is the market place for all things hound...which is why we were super pumped when they wanted to interview us for their blog, the Hound!  
Enjoy the interview below and learn about the birth of Sidesandwich Paper Co.'s greeting cards----shhhh, I'll let you in on a little secret, love is involved :)
Thanks for stopping by Sidesandwichshop.com---more fun to come!
xoxo, 
S & B
We had the opportunity to speak with Christina, the owner of SideSandwich Paper Co. She is an avid comedian turned dogpreneur. Read the interview below to learn more about her funny dog cards and games and the background of SideSandwich Paper Co!
Hound & Co: Where are you located?
SideSandwich Paper Co: Just outside of Chicago. 
Hound & Co: When, how, and why did you come up with SideSandwich Paper Co?
SideSandwich Paper Co: I knew I always wanted to make greeting cards. I used to always be in the card aisle at the store and loved finding the right message. All mothers might have done this, but my mom used to underline JUST the right words of the card and I remember it left me feeling so special. I love that with the passing of time and introduction of technology…that the paper card industry is still alive. I love that people still want to send mail. Our goal is to get a couple smiles out of each card—one to the sender that bought it and then from the receiver. We're really all about those smiles!I am a comedy writer and producer in Chicago and found that my charismatic dog and rad boyfriend made me so happy and supported me so much, that they'd inspire me every day! That happiness just poured into my cards and it's been a great creative outlet. All of our cards are handmade and that was something that was important to me as well.
Hound & Co: Can you tell us what got you into making your Boston Terrier Greeting Cards?
SideSandwich Paper Co: My dog Bandit is (and I'm bias of course) the cutest little best friend I could ever imagine to have! When he smiles, it spreads across his whole face like (a nice) Joker. It's kind of impossible to be around him and not smile! So it seemed like putting him on the cover of my cards would be a no brainer. All the photos I use are original shots and it's so fun to share with the world. If you follow our Instagram, it's funny, you'll see that the pictures come natural and one day might end up on a card….not vice versa.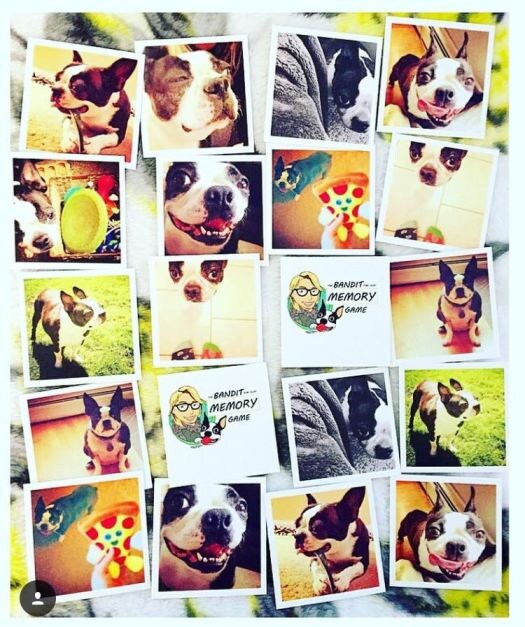 Hound & Co: Who and what inspires you?
SideSandwich Paper Co: It's easy to say that Bandit and my boyfriend Tom (whom I affectionately refer to as tootalltom, being that he's a hunky 6'4" and I'm 5'2") are my biggest inspirations. They spark so many great ideas for me because they're so darn spectacular. But another huge inspiration for me is nature and the great, beautiful sky above us. I'm a sucker for a sky on fire. You'll see a lot of sunrises in my cards as well because sometimes you just have to stop and be in awe of these stunning moments the world shows you every day.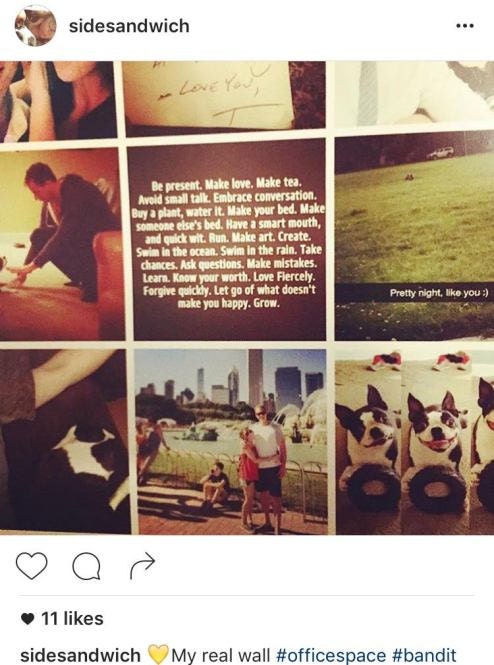 Hound & Co: What goes into making a greeting card and coming up with the captions?
SideSandwich Paper Co: The thing I love best is, since I'm so new with my little company, I will use multiple captions for the same picture until I feel like I get it right. I love to find the human relation-element in objects as well…for example, I have a card with two toothbrushes in their cup in my bathroom. The way my red toothbrush seemed to be naturally leaning on the blue one, gazing at it so enamored, and it just made me think, "man, even my TOOTHBRUSH loves tom's toothbrush!" I snapped a picture and knew I'd use it someday. It's had some different words initially, but it's now our most popular Anniversary Card with the caption "We've been together 365 days as husband and wife! Yay!" And that makes me so happy because it's okay if I don't get it right the first time. I love creating these cards so much that it's a joy to see their evolution of sorts.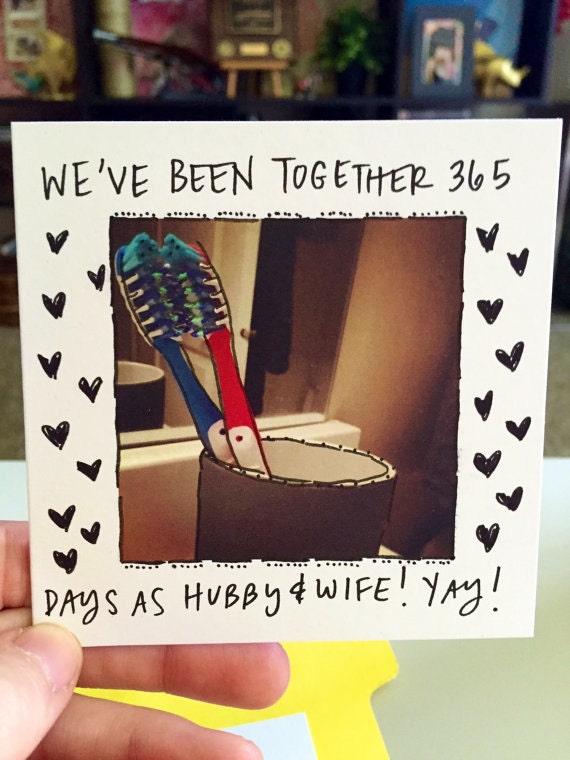 Hound & Co: Did you always want to be a dogpreneur?
SideSandwich Paper Co: I can't say that I have! Haha But when Bandit came into my life, all bets were off I suppose. I felt like he was a star. I know, that sounds so silly, but it came down to the fact that he made me literally beam with joy…and I wanted the world to as well. (Again, spreadin' those smiles!)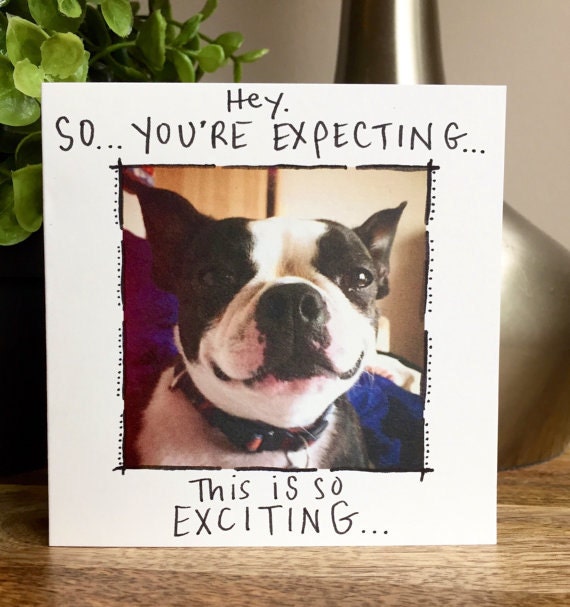 Hound & Co: In one sentence, characterize your life as an entrepreneur.
SideSandwich Paper Co: I would say I am unapologetically me, curious about life, and passionate about creating something that will affect someone positively. I have a lot more to learn, but am so excited to grow as a person and a business! (sorry that's more than one sentence)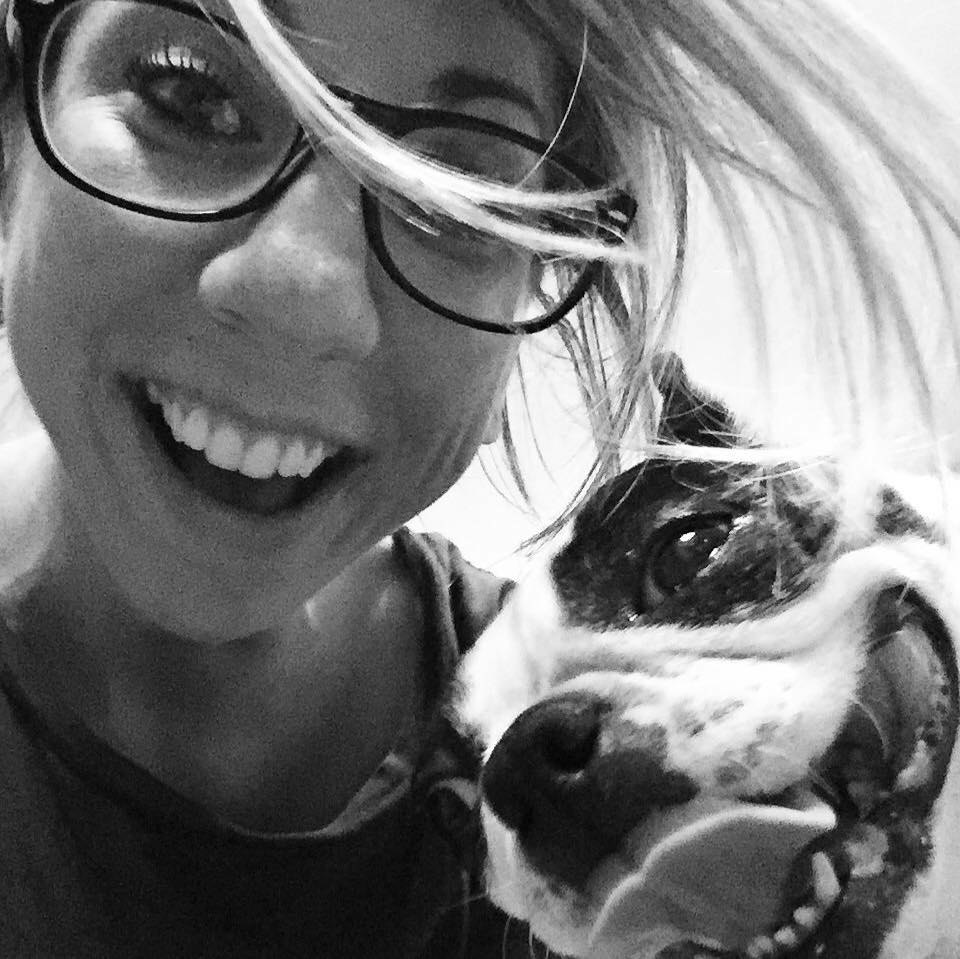 Hound & Co: If you were a dog, which breed would you be and why?
SideSandwich Paper Co: I think I would be a Boston terrier. That seems like an easy answer, but really, it's me admitting that I do think Bandit and I have kind of grown to look alike! He's the best combination of energetic, affectionate and hilarious, so hey- it works out.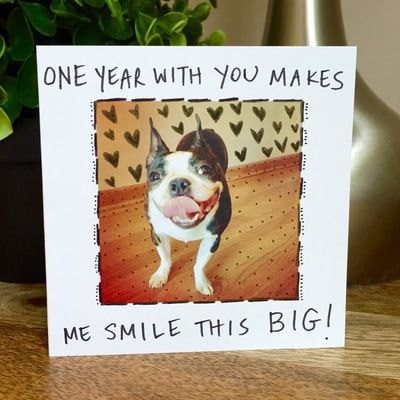 Check out all our original art in our etsy shop, Sidesandwich !